Have you seen Kong: Skull Island yet? The 2017 movie follows an expedition to a mysterious island at the end of the Vietnam war. Not long after arriving on the island the expedition stirs things up which bring forth the mighty Kong to protect his home and most of the creatures that live there.
This expedition is made up of researchers, scientists, military personnel, a tracker and a photographer. The photographer is portrayed by Brie Larson, who you will probably recognize from films like Scott Pilgrim vs the World, 21 Jump Street and Room, which she won a Best Actress Oscar for. In the special features from the Blu-Ray there is a small documentary about Larson's photography skills on set as described by director Jordan Vogt-Roberts.
The idea was to provide Larson with a working on screen camera, which was a ultra rare Leica KE-7A military issued camera from that Vietnam war time period. To make the role more authentic Vogt-Roberts made sure that film was in the camera and Larson had the freedom to shoot real photos while on set. Pretty cool. Not to mention the photos are terrific and the camera is one piece of photography gear that sees collectors paying over $20,000 for one. There is currently a 1972 Leica KE-7A camera on sale at the link in caption below for just over $21,000 CDN.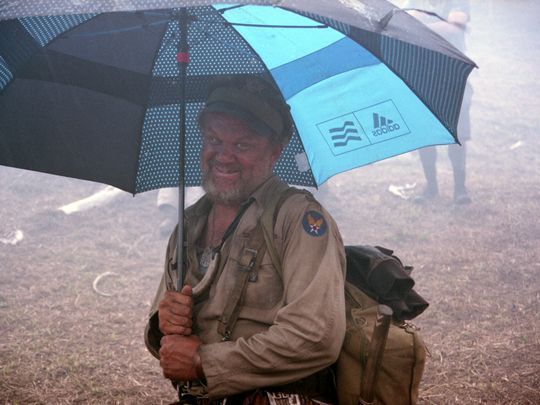 Photos by Brie Larson
Larson using a film camera on set was interesting to me because of the level of intimacy captured in the images while being able to shoot freely on set to be a more authentic character. In the USA Today article it is mentioned that she didn't develop the rolls of film for a few months. That excitement between shooting a roll of film and getting to see the prints in your hand is thrilling. There is something extremely gratifying to look at a print from a roll of film days, weeks, or months later. It is a feeling that shooting digital and getting instant viewing of that image just can't duplicate in my opinion.
Just thought I would share as I thought it was pretty cool and being able to capture images on a movie that is being shot in locations like Oahu and Vietnam would be amazing.
Banner Photo from IMDB http://www.imdb.com/title/tt3731562/mediaviewer/rm2332110848